Coming soon: The Big Fix.

A gripping debut thriller combining football, greed and corruption. Focused around the true lifeblood of the game. Not players, officials, administrators or agents, but football fans.

Because football without fans is nothing.

Sign up for email updates using the box below.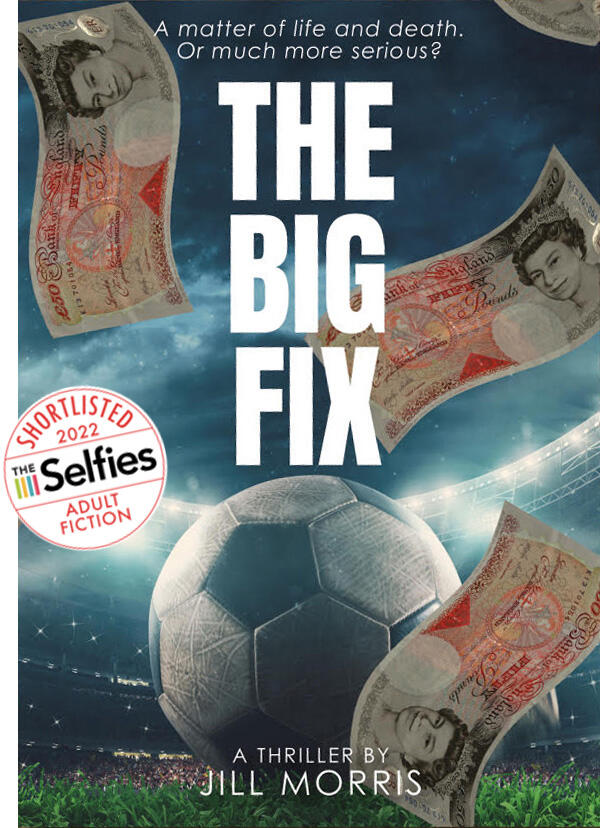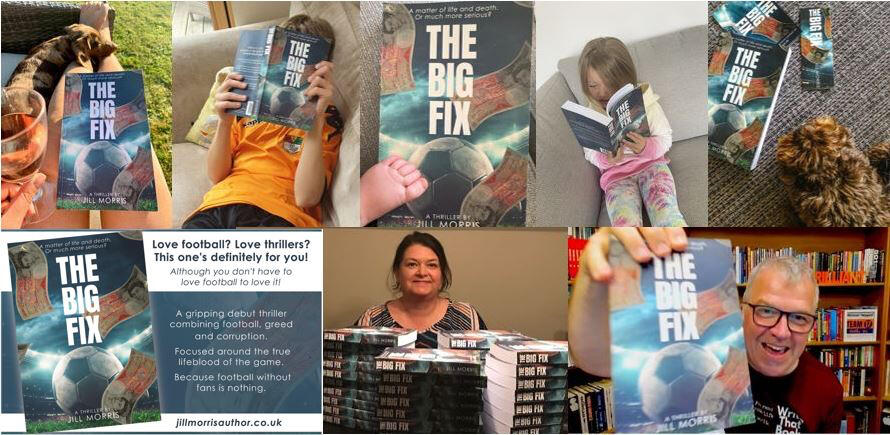 The Big Fix
Millions in cash. Hundreds of designer watches. A small black book...

Liam got more than he bargained for after breaking into a plush west London townhouse. When he finds out who lives there, the notes in the book begin to make sense and its contents become the most valuable of all his ill-gotten gains.

But his discovery could devastate the 'beautiful game' and those at the top are terrified.

As the net closes in on Liam, they're prepared to do anything to protect their secret. And Liam has a choice to make, but will he make it in time?

Sign up to emails using the box on the home page
About Jill Morris
Hello! I'm Jill Morris and I was born and raised in County Durham, the youngest of three daughters.

Since graduating from Teesside University in the early 1990s, I've had a successful career in the retail sector, working in senior marketing and PR roles. Although this allowed me to indulge my creativity in various guises, my true passion has always been to be a writer. In 2020, during the global pandemic, I made the decision to finally 'write that book' and to follow my dream of becoming a published author.

I've been a football fan for as far back as I can remember and finally persuaded my dad to take me along to watch Newcastle United during Kevin Keegan's first season as a player in early 1983. Since that moment, I've been there for the highs, the lows and the depths of despair, visiting grounds across Britain and Europe to follow my team.

Having lived in various parts of Lincolnshire throughout my career, I'm currently living in the beautiful city of York with my husband David, who provided the inspiration for my debut novel, due to be published in August 2021.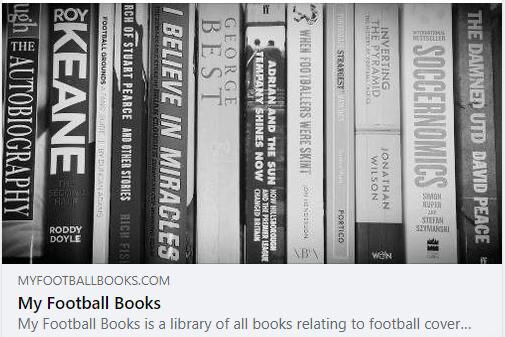 Contact
If you'd like to be kept up to date with publication news, including the book launch itself, please sign up to receive my monthly email. By subscribing, you will also benefit from any special promotions, sneak previews and other exclusive content.

Sign up to emails using the box on the home page
---
If you just want to ask a question, or say hello, or anything else – use this form.
Privacy Policy
Key details

This website privacy policy describes how Jill Morris – Author protects and makes use of the information you give the company when you use this website.

If you are asked to provide information when using this website, it will only be used in the ways described in this privacy policy.

This policy is updated from time to time. The latest version is published on this page.

This website privacy policy was updated on 31st March 2021.

If you have any questions about this policy, please email jillmorrisauthor@gmail.com

Introduction

We gather and use certain information about individuals in order to provide products and services and to enable certain functions on this website.

We also collect information to better understand how visitors use this website and to present timely, relevant information to them.

What data we gather

We may collect the following information:
– Name
– Email address

How we use this data

Collecting this data helps us understand what you are looking from the company, enabling us to deliver improved products and services.

Specifically, we may use data:
– To contact you in response to a specific enquiry
– To send you promotional emails about products, services, offers and other things we think might be relevant to you
– To send you promotional mailings or to call you about products, services, offers and other things we think might be relevant to you

You may unsubscribe from email communication at any time by clicking the Unsubscribe link in any email message from us.

Cookies and how we use them

What is a cookie?

A cookie is a small file placed on your computer's hard drive. It enables our website to identify your computer as you view different pages on our website.
Cookies allow websites and applications to store your preferences in order to present content, options or functions that are specific to you. They also enable us to see information like how many people use the website and what pages they tend to visit.

How we use cookies

– We may use cookies to:
Analyse our web traffic using an analytics package. Aggregated usage data helps us improve the website structure, design, content and functions.
– Identify whether you are signed in to our website. A cookie allows us to check whether you are signed in to the site.
– Test content on our website. For example, 50% of our users might see one piece of content, the other 50% a different piece of content.
– Store information about your preferences. The website can then present you with information you will find more relevant and interesting.
– To recognise when you return to our website. We may show your relevant content, or provide functionality you used previously.

Cookies do not provide us with access to your computer or any information about you, other than that which you choose to share with us.

Controlling cookies

You can use your web browser's cookie settings to determine how our website uses cookies. If you do not want our website to store cookies on your computer or device, you should set your web browser to refuse cookies.

However, please note that doing this may affect how our website functions. Some pages and services may become unavailable to you.

Unless you have changed your browser to refuse cookies, our website will issue cookies when you visit it.

To learn more about cookies and how they are used, visit All About Cookies.

Controlling information about you

We will never lease, distribute or sell your personal information to third parties unless we have your permission or the law requires us to.

Any personal information we hold about you is stored and processed under our data protection policy, in line with the applicable regulations.

Security

We will always hold your information securely.

To prevent unauthorised disclosure or access to your information, we have implemented strong physical and electronic security safeguards.

We also follow stringent procedures to ensure we work with all personal data in line with the applicable regulations.

Links from our site

Our website may from time to time contain links to other websites.
Please note that we have no control of websites outside our domain. If you provide information to a website to which we link, we are not responsible for its protection and privacy.

Always be wary when submitting data to websites. Read the site's data protection and privacy policies fully.